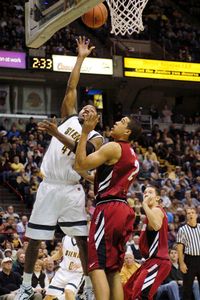 Selection Sunday is one of the best days of the year, ranking up with my birthday, St. Patrick's Day and Christmas Eve. It's fun to sit and watch and find out who made it, who got snubbed and who will be playing who. Then the process of filling out a bracket begins.
I always print out a bracket as soon as it is online and then fill it out, going off the top of my head and using my instincts and a few stats. A great resource for the tournament is Basketball State (
bbstate
.com). For a few bucks, you can get sorted stats and team comparisons for every team in the tournament.
Here are a few of my picks so far:
First-round upsets: St. Joseph's (11) beating Oklahoma (6), Kent State (9) beating

UNLV

(8),

Siena

(13) beating Vanderbilt (4), Davidson (10) beating

Gonzaga

(7), St. Mary's (10) beating Miami.
Sweet 16 surprises: Davidson (over Georgetown), Butler (over Tennessee)
Elite Eight: Butler (over Louisville), Xavier (over Duke), Wisconsin (over Davidson)
Final Four: Texas, UCLA,

UNC

Kansas
Championship: UCLA over

UNC
I feel a little wrong picking three number ones and a number two for the Final Four, but I can't see any of those teams going out early. Memphis has a tough path to the Final Four, with Stanford, Texas, Marquette, Pitt and even Michigan State standing in the way. Not to say any of the other four top seeds have it easier, but Memphis seems to be the most vulnerable to losing to a team like Texas or Stanford in the Elite Eight.
Meanwhile I think Davidson,
Siena
and Butler are going to make a lot of waves in the tournament. Part of it may be the
MAAC
-bias in me as far as
Siena
, but I think they are a tough match-up for Vanderbilt.
If you look at the stats,
Siena
is a similar, but smaller team. Vanderbilt's main advantage will be forward A.J. Ogilvy, who is 6'11, 250 pounds, averages 16 points a game and is more athletic than any of the Saints' big men.
However,
Siena
has the advantage in speed with Edwin
Ubiles
, Kenny
Hasbrouck
and Alex Franklin, all athletic guard/forwards who average at least 15 points per game.
Siena
averages 76.8 points per game, while holding opponents to 71.1 points per game. Meanwhile Vanderbilt averages 80.6 points and gives up 74.4.
Siena
will need a lot of bounces to go their way, like its win over Stanford. In that game
Siena
held the Cardinal to 67 points while scoring 79 and shut down big man Robin Lopez (8 points), although his brother (Brook, who is slightly better), did not play. Vanderbilt does not have two 7-footers anyways, so if
Siena
can shut down Ogilvy, a similar player to Robin, they have a chance. (Sorry for the mistake earlier about Robin/Brook, it was an error at the site I was looking at for stats).
The Saints pulled off a big upset with a win over Stanford in 1989 as a 14 seed.
Davidson and Butler are two powerful mid-major teams who have a chance to make runs deep into the tournament. Butler needs to get past Tennessee, while Davidson has to eliminate Georgetown, both tough, but winnable games.
Xavier, a three seed, is my sleeper team to make the Final Four. If they had not drawn UCLA, my favorite to win the NCAA tournament since early February, I would say a Final Four berth would be a possibility. But UCLA is a much stronger defensive team and that is why I seem them cutting down the nets at the end of March.
A lot could change throughout this week, but as soon as I get my final bracket done, I'll post it on the blog.
(Photo credit ESPN.com)